Massachusetts Poetry Festival
---


2023 Massacusetts Poetry Festival presents Bridging the Gap: Mass Poetry Festival Virtual Lead-Up Events
April 30, 2023

Reading: They Rise Like a Wave: An Anthology of Asian American Women Poets + Friends, featuring Allison Albino, Annette Wong, Anuja Ghimire, Emily Lee Luan, Jenna Le, Yamini Pathak, Kailee Pedersen, Shazia Hafiz Ramji, Jhani Randhawa, Jane Wong, Jess Yuan (and Dena Igusti, who could not attend). Purchase the anthology here.

Festival description: As we gear up for the launch of the 2023 Massachusetts Poetry Festival which will be held in Salem, Massachusetts, we reminisce on the 2021 Virtual Festival. Due to our virtual reach, we were able to share the diverse voices of the Massachusetts poetry community nationwide and globally. Although this year's festival will occur in-person, we still want to give our national and international participants an opportunity to experience our dynamic programming. Therefore, Mass Poetry is hosting a series of virtual lead-up workshops, readings and panel discussions for National Poetry Month.


---
Changemaker Authors Conference

Changemaker Authors Conference
April 29–30, 2023

Panel: Writing for Social Change, featuring Zeyn Joukhadara, zakia henderson-brown, Taté Walker, and Jhani Randhawa (moderator)

Conference description: Co-presented by Narrative Initiative and the Unicorn Authors Club, the inaugural 2023 Changemaker Authors Conference gathered together a groundbreaking lineup of BIPOC authors, activists, and publishing experts in conversations and panels, virtually and over two days, with a goal to orient movement organizers and social justice workers to the process of writing and publishing books.


---
Thinking Its Presence

Thinking Its Presence: Racial Vertigo, Keywords, and Significantly Problematic Objects (An interdisciplianry conference on race, creative writing, and artistic and aesthetic practices)
March 30–April 2, 2023

Co-presented by the Pomona College Department of English and the Benton Museum of Art (with support from Pomona College, the Claremont Colleges, and Kaya Press)

Panel: Environmental Writing from an Asian American Standpoint & Ecologies of Grief Panel and Performance feautring Rajnesh Chakrapani, Jessica Kashiwabara, and Jhani Randhawa

Conference description:
In Pedagogies of Woundedness: Illness, Memoir, and The Ends of the Model Minority, Dr. James Lee employs the condition of "cruel optimism" theorized by the late Lauren Berlant to scrutinize the ambivalent feelings Pauline Chen narrates in her memoir Final Exam: A Surgeon's Reflections on Mortality. Lee further frames Berlant's point by saying that "Cruel optimism is the condition of maintaining an attachment to a significantly problematic object…the fear is that the loss of the promising object/scene itself will defeat the capacity to have any hope about anything." At the Thinking Its Presence conference this year, we have invited Dr. Lee to present his work and to turn his discussion to questions of how BIPOC scholars, writers, activists, historians, and artists manage both hope and its opposite affective feelings in their works, and how attachment to "problematic objects," systems, and institutions produce and perpetuate difficult and violent conditions for the psyche and the body. Concerning the 'body," Dr. Valorie Thomas's work on racial and diasporic vertigo is of particular importance here: specifically how the body "incorporat[es] the idea of trauma, displacement and dispersal that the African diaspora has experienced through the slave trade. . . . being uprooted and dislocated—and culturally disrupted and traumatized—that's one version of vertigo."

We are celebrating the Claremont Colleges, California communities, and the Thinking Its Presence communities of past participants to present on these themes related to their areas of expertise (which include creative writing, scholarly, theoretical, and interdisciplinary work) and to invite their colleagues to present a set of panels related to these themes of racial and diasporic vertigo, necessary keywords in our fields, and problematic objects, through creative writing, literature, aesthetic practices, social justice, and performance studies.



---
Singapore Literature Festival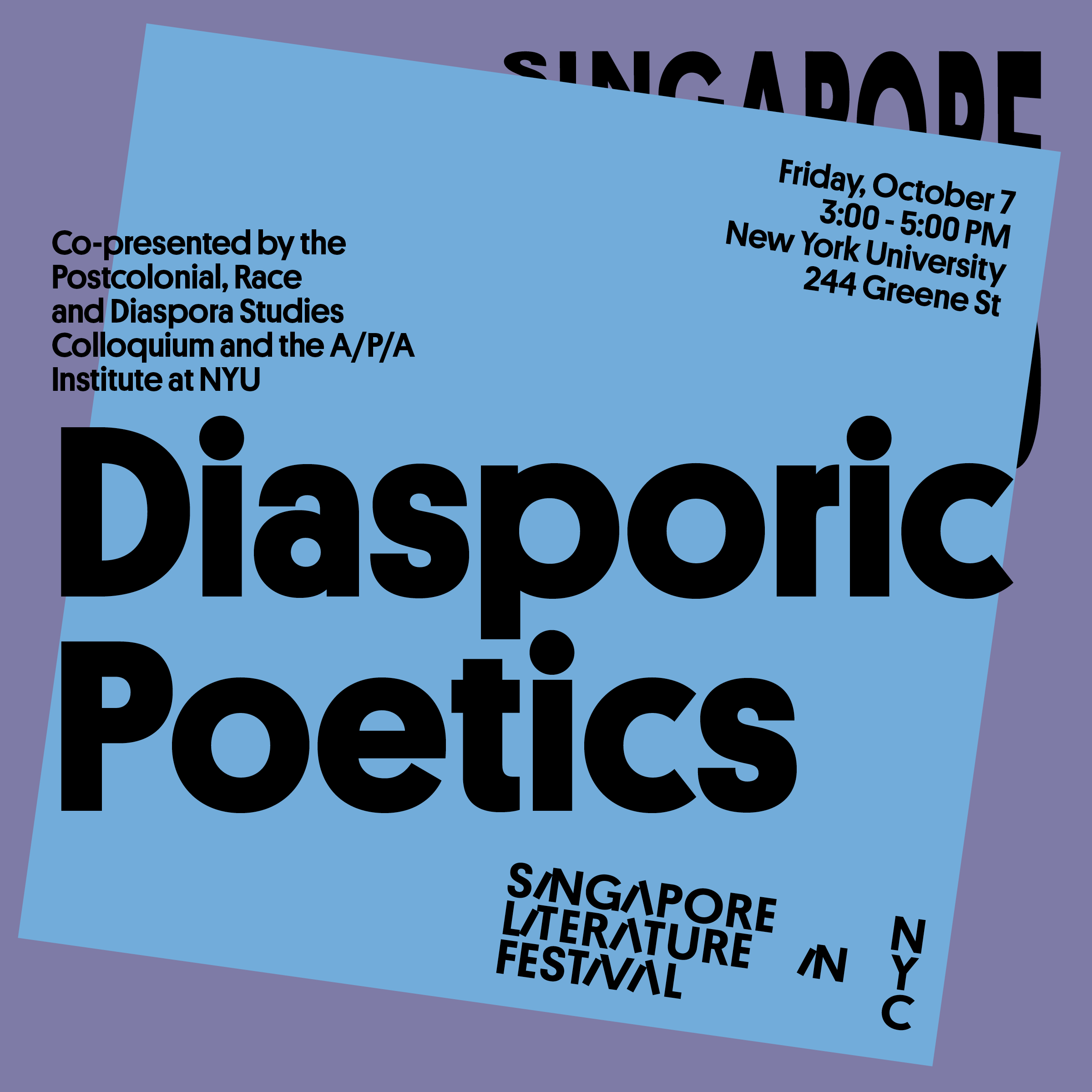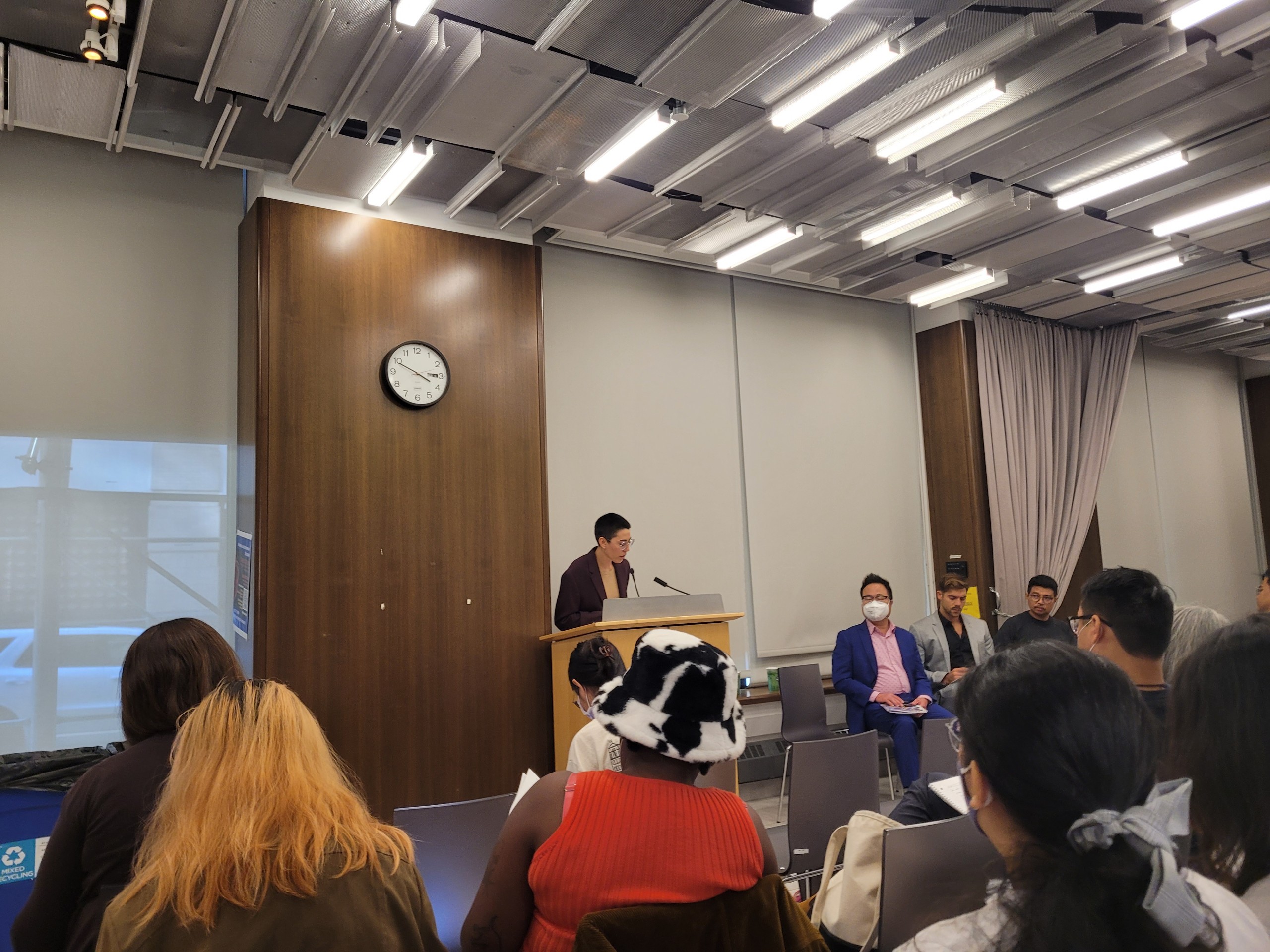 Singapore Literature Festival in New York City
October 2022

Co-presented by the Postcolonial, Race and Diaspora Studies Colloquium and the Asian/Pacific/American Institute at NYU

Diasporic Poetics—Panel Discussion with Timothy Yu, Anthony Vahni Capildeo, Chris Campanioni, and Nazry Bahrawi

Moderated by Jhani Randhawa

Venue: NYU, 244 Greene Street, New York, NY
Friday, October 7, 2022
3:00–5:00pm Eastern time

Panel description:
In Diasporic Poetics: Asian Writing in the United States, Canada, and Australia, poetry scholar Timothy Yu argues that "racialized and nationally bounded "Asian" identities often emerge from transnational political solidarities, from "Third World" struggles against colonialism to the global influence of the American civil rights movement." As such, Asian diasporic writers develop and maintain a critical stance towards the idea of the nation-state. Joining Yu in this discussion are three poets and scholars from diverse backgrounds and perspectives, Trinidadian-Scottish poet and non-fiction writer Anthony Vahni Capildeo from the UK, Latin American poet and scholar Chris Campanioni from the US, and Malay Singaporean literary scholar Nazry Bahrawi from Singapore.



---
1455's 4th Annual SummerFest


1455's 4th Annual SummerFest
June 2022

Virtual Panel: Book Deal Magic featuring Jen Soriano, Sunu Chandy, and Lauren Taylor

Moderated by Jhani Randhawa on behalf of the Unicorn Authors Club

Panel description:
Traditional publishing often seems opaque and inaccessible. Here, four "unicorns"—diverse authors writing for and from marginalized audiences—share their publication pathways, from Big Five imprints to magical small presses. We offer practical tips and ideas for getting support along the journey.


---
More to come...

Stay tuned :)